May 5, 2018
Los Angeles, California
We are a group of brothers and sisters from around the world who have sought God with all of our hearts to be victorious over sexual sin and the devastating effects that it has had on our lives and our loved ones. We have become a family who loves to meet together and hold out hope.  When we get together, our primary focus is to pass on the message that God indeed provides us with more than enough power to overcome. We will have keynote sermons, leadership training, topical classes as well as many testimonies all geared to help us live in God's power.
Who Should Attend?
Anyone who wishes to be spiritually equipped to better handle sexual temptation and sin with God's power is welcome to attend. This includes:
Men and women who have recognized their own powerlessness with regards to sexual sin.
Men and women who wish to heal relationships damaged by sexual sin.
Men and women who struggle with love and relationship addiction.
Men and women who wish to learn more about this issue so that they can help others who are powerless.
Men and women who lead recovery groups and wish to get extra training.
Schedule
Pure and Simple West will be a one-day conference on May 5, 2018. For a detailed schedule with a list of classes, see our flyer.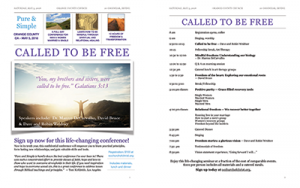 Location
Orange County Church of Christ, 10 Goodyear, Irvine, CA (map)
Registration
The cost of the event is $100 per person and includes conference materials, lunch and dinner. Register online.